Without reading? — Not three days! [Wolfgang Held]
Eckhaus Verlag Weimar is at the beginning of its publishing activities. We want to give Eckhaus publishing a soul. We want to tell stories that have to do with history. Remembering is the key word. The titles published so far can be summarized under the term "history in stories".
The publisher lays great emphasis on books with a good layout and very good design. Within the first two years we have already published 10 titles in the series "Eckhaus Geschichte".
Wolfgang Held's memoirs, Ulrich Völkel's biographical novella, Paul Henoch's records, and Stefan Wogawa's documentary are committed to contemporary historical themes. The books planned for the next years continue this line started.
We are particularly proud to have published memoirs by authors such as Eva Schloss and Bertrand Herz. With the book series "Stolperstein-Geschichten", we are also addressing the subject of reviewing recent history.
History lives on in people's stories!
What is not written down or retold is inevitably lost. But a generation that has no memories or only selective memories is not in a position to create a future of humanity. This is the basic idea of Eckhaus Verlag Weimar for the book series "Eckhaus Geschichte".
We want to give our publishing house a soul. Remembering is the key word. That is why we started with the life and creative story "Ich erinnere mich" (I remember) by the well-known writer Wolfgang Held (Weimar). Two years later, eight more titles were already available, and these also had a biographical background.
Yes, a publishing house is also an economic enterprise above all. But so is a bakery. We want to give Eckhaus publishing a soul. We want to tell stories that have to do with history. Remembering is the key word. We share the responsibility for remembering our history – by working on educational projects alongside our publishing program.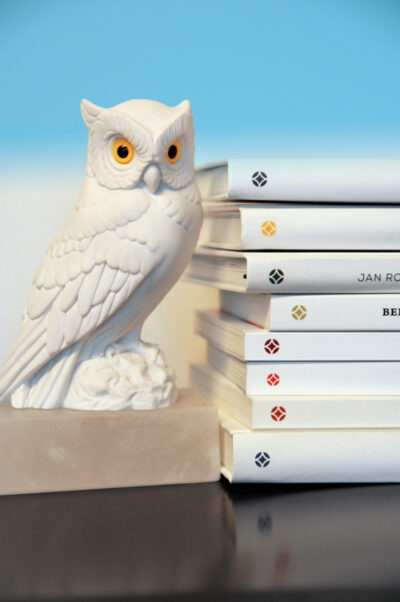 If you want to get into publishing, you can't be at a loss for ideas.
A special series is dedicated to the topic of "Stolpersteine" and was started in 2016. This is also about remembering and dealing with recent German history. More than 25 German cities have already expressed interest in contributing life stories about their city's "Stolpersteine" to our book series. Eckhaus Verlag thus faces a major task for the coming years.
Thanks to numerous sponsors, the books in the "Stolpersteine Stories" series are distributed to the city's schools, but they are also available for purchase. We see an important effect in presenting readers with stories from their own city in order to give a clear and tangible face to historical knowledge about Nazi crimes.
Our involvement in the production of the books is voluntary. Therefore, we are always grateful for sponsors who commit to funding a class set for the students of their or another city. Individual book donations are also welcome; we combine these
into collective class sets.
Our second mainstay: gustatory enjoyment.
In addition to the topic of contemporary history, Eckhaus Verlag has also been dedicated to the culinary field since 2016. The "Wild Kitchen Project" is a book that approaches the topic of conscious nutrition from a completely different direction, namely about healthy game in combination with barbecue, BBQ and outdoor cooking. This project has been so successful that the first book was awarded a public prize directly in the year of its publication. Three books have been published so far in the culinary series, and more are planned.